Fibromyalgia in Hepatitis C Patients; A Cross-Sectional Study from Pakistan
Fibromyalgia in HCV
Keywords:
Fibromyalgia, Hepatitis C Infection, Severity Scale Score (SS), Wide spread Pain Index (WPI)
Abstract
ABSTRACT
Fibromyalgia syndrome (FS) is a chronic musculoskeletal illness involving anatomic locations of tender points and discomfort at certain levels. The study was carried out to ascertain the prevalence of hepatitis C virus Infection in Fibromyalgia Patients.
Methodology: This cross-sectional descriptive study was conducted at the Mayo Hospital Lahore from 1st January to 30th May 2019. The patients who presented to Mayo Hospital Lahore with hepatitis C virus infection throughout the research period were included by consecutive sampling. Using the widespread pain index and severity scale score resulting from hepatitis C infection, patients were evaluated for the existence of fibromyalgia, and information was entered on a predesigned questionnaire. Using SPSS version 24.0, the data that was recorded on the questionnaire was analyzed. The Chi-square test was applied with a significant p-value < 0.05.
Results: The prevalence of fibromyalgia was reported to be 46.4% (26 individuals), while 53.6% (30 patients) did not have the condition. Fibromyalgia was present in 33.3% of patients below the age of 30 years, 47.1% of patients between the range of 31yrs -50yrs, and 50% of patients above the age of 50 years (p=0.774). In terms of gender, there were 66.7% of female patients with fibromyalgia as opposed to 17.4% of male patients (p=0.001). In terms of WPI, the mean of male respondents was 5.52±5.60, while that of female respondents was 5.52±5.62. (p=0.05) The difference was statistically significant. In contrast, the severity scale score for male respondents was 4.26±3.32 and for female respondents it was 7.12±3.14. The difference was statistically significant (p-value = 0.002).
Conclusions: Hepatitis C infection increased the risk of fibromyalgia. Fibromyalgia is highly correlated with gender.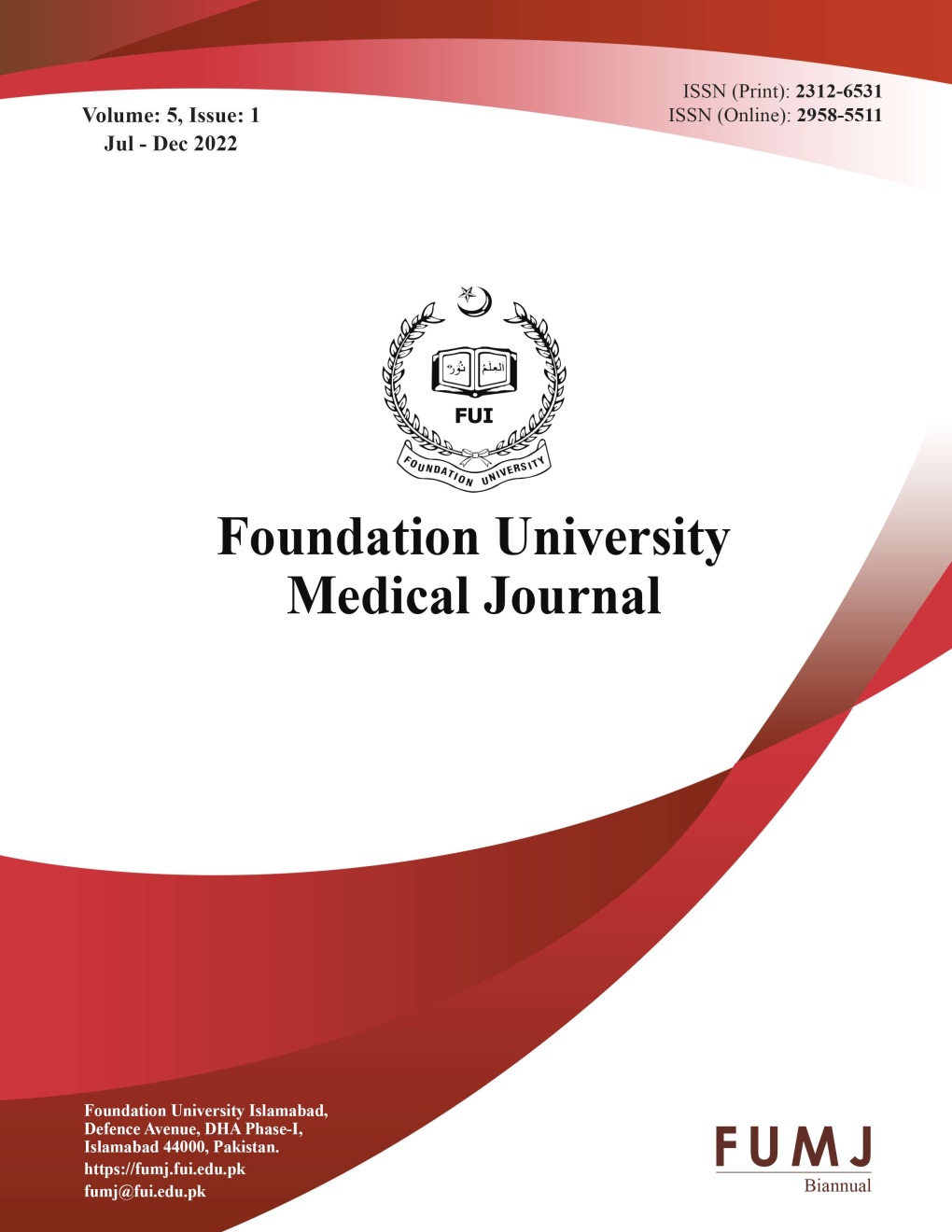 Downloads
Section
Original Articles